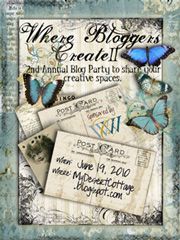 It's time for the party and you're invited to take a tour of over 450 studios, craftrooms, and workspaces.
My space isn't quite ready this year so I'm not part of the tour but I sure can't wait to
take
the tour. I know I'll get TONS of ideas for transforming my crazy space into something wonderful.
I have managed to get almost everything packed up in preparation for painting the walls and shelves. Then the fun begins! Hopefully Where Bloggers Create
III
will happen next year
!!
Transforming this space has been slow going ~ but I can't wait to show you how it turns out. It's going to be great!! Really it is! Because, after all,
fairy tales do come true!
Don't you love the sign I bought for the door to my space!!
Make sure you click on the badge at the top of this post ~ you'll want to visit everyone!!
Prepare to be inspired!
Don't worry ~ take your time ~
Karen
will make sure we have plenty of time to visit everyone!
How cool is that! How nice is she!! Very!!!